A steady educational foundation is a big challenge for most children from financially unstable families. We, at Cherian Foundation, strive to encourage these children to give primary importance for education and instil a positive outlook in them through our various initiatives.
Basic Education for children most often takes a back seat in low-income families where the parents have other pressing expenses to address. The poor economic background becomes the biggest barrier for children who dream to have a good education and a positive environment to grow and develop as brilliant and socially responsible citizens. These children are deprived of a holistic learning environment that supports and guides them onto bright career paths. In government schools, we see these students with their sharp young minds, ever so enthusiastic and eager to learn and grow. Despite the difficulties they face at home, they work hard to study, in hope that one day they will be able to make it out of their current social situations, to make their mark in this society.
The Cherian Foundation primarily focuses on these lesser fortunate students attending Corporation schools. Most of these schools lack basic necessities like infrastructure, proper sanitation and safe drinking water. We initiate projects that cater to these students like scholarship programs, renovation of the schools, building residential facilities, career counselling that help them focus better on their studies. In order to sustain the maintenance of these schools, we connect with various social organizations, corporates and philanthropists.
Under the 'Schools into Smiles' campaign, TCF adopted 2 schools, Rotary Model School, Mugappair and Social Service League School, QMC Campus out of the 130 schools in 2004-05.From the reconstruction of the schools to providing noon meal kitchens, good water facilities and conducting Annual Sports day, all activities of these schools are sponsored and maintained under the Schools into Smiles Campaign. TCF continues to execute the maintenance work in the rest of the schools by partnering with other NGOs, social clubs and corporate organizations.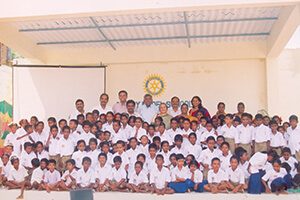 E-LEARNING INITIATIVE BY TCF
With a mission to improve the standard of student's education, high quality curriculum-based E-learning (audio-visual) modules in local languages were introduced in selected 130 State/ State aided schools. The E-learning modules aid in improving the language abilities, enhance knowledge absorption and learning abilities of children through a standard language and pronunciation in voice-overs for various concepts in audio visual format. It is an E-learning device that contains the 'Samacheer Kalvi' syllabus from Nursery to XII Std (video & audio content) with a set of speakers and a projector.
We have provided 16 e-learning kits in association with Centenary Charitable Trust and Canara Bank, TTK Foundation and others.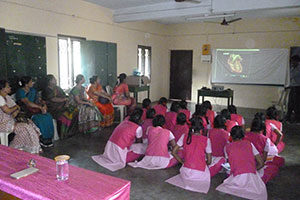 TCF provides scholarship to the deserving students from a disadvantaged background. Every year, we continue to provide scholarships for 49 underprivileged children.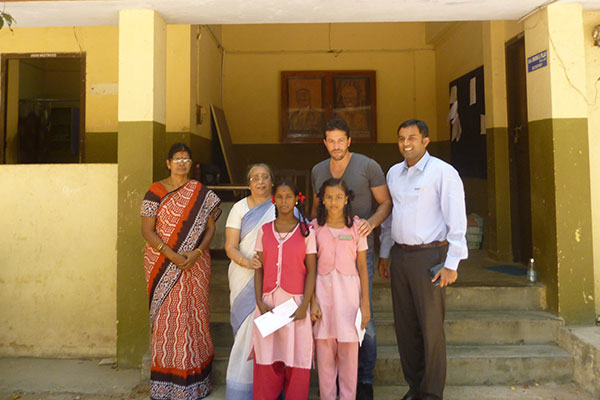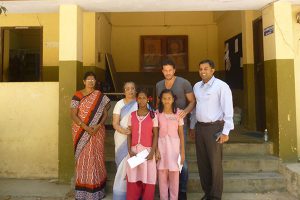 One of Cherian Foundation's own initiatives is the literacy programme offered to the factory workers of Raj Hair International Pvt Ltd and B&H Exports. Interested candidates are given weekly lessons to identify numbers and read basic Tamil words. The aim is to empower them in their day to day activities like visiting the bank, using the ATM, reading bus boards, writing leave letters, putting down signature, more efficient at work place, helping their children etc.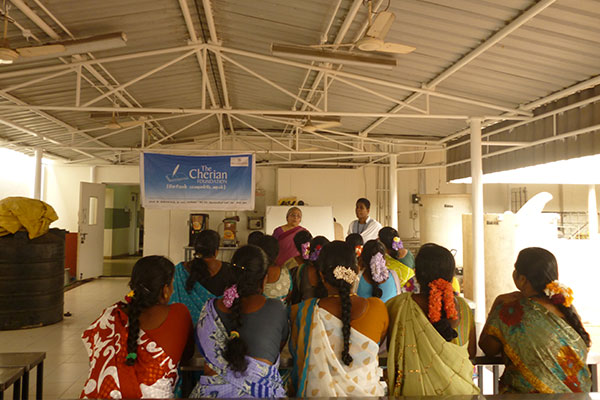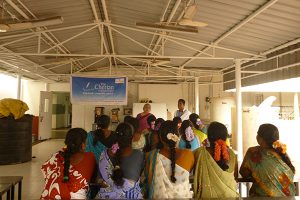 Creating a platform for students to exhibit their talents helps them recognise their skills and strengths, gives them an experience of a healthy competition and boosts their confidence. One of the ways that TCF gives this opportunity for the students of the adopted schools is by conducting painting contest periodically. We also conduct 'Schools into Smiles' Cultural Fest with Centenary Charitable Trust and other Rotary Clubs. The students from 130 government and panchayat schools participate in a vibrant array of events like fancy dress, singing, skit, dance, speech contest and they also get an opportunity to interact with students from the city schools. Various prizes are awarded to the participating children to give them a sense of accomplishment and enthusiasm, to encourage the young talents.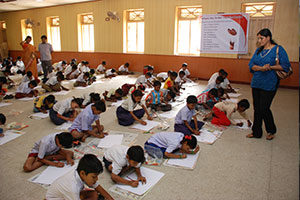 SPORTS DAY IN ADOPTED SCHOOL
As an encouragement to the children going to our adopted schools, TCF conducts annual sports day for them. The children are divided into 4 categories based on their age and gender and the 1st and 2nd position in the various races are given prizes.